BO3 Fatality - CCAPI - DEX + CEX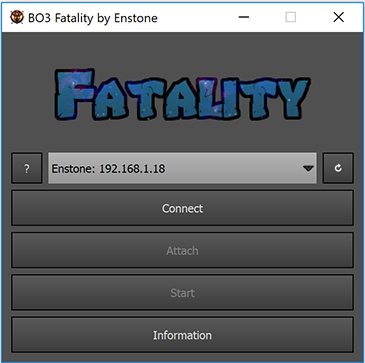 Informations de l'Application
| #ID | Crée par | Prix | Version | Publié à |
| --- | --- | --- | --- | --- |
| #39 | FM|T Enstone | 19.99€ | 1.03 | 18:02:25 18/09/2017 |
Description de l'Application
BO3 Fatality
is a PC Software that connects to CFW consoles to provide menus.
3
mod menus are provided, an host ingame menu, a non-host ingame menu and a pregame menu.
A few features that are available:
Host menu
Givable menu
Aimbot
All client stats
Advanced noclip
Forge mode
....
NonHost menu
Radar
NoRecoil
NoSway
Aimbot
Esp
Autoshoot
Autowall
Outlines
....
Pregame menu
Name modifitcation
Console commands
Theme selector
Host status
Stats selection
....
A console with
CCAPI
installed and a CFW 4.21CEX/DEX or + is required
Acheter l'Application
Vous devez être connecter pour pouvoir acheter cette application.