Control Console API 2.80r11 - RTE CEX + DEX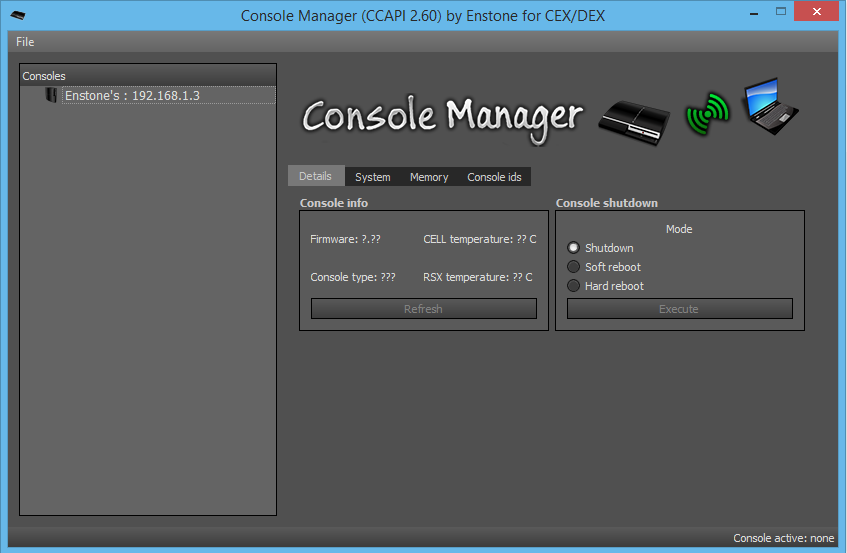 Application Informations
| #ID | Created by | Price | Version | Published at |
| --- | --- | --- | --- | --- |
| #20 | FM|T Enstone | Free | 2.80r11 | 17:28:00 11/11/2013 |
Description of Application
API to make a Console <-> PC connection.
CCAPI
is a software that establishes a connection between your console and your computer. You can control your console from your pc.
Some CCAPI functions:
Debug non-fself & fself in real time
Real time memory edit on CEX/DEX
Wire(less) connection
Module loading
Modify idps and psid
Edit console Leds
Ring console buzzer
Get temperature
...
Compatible CFWs:
4.21 CEX/DEX
4.30 CEX/DEX
4.40 CEX/DEX
4.41 CEX/DEX
4.46 CEX/DEX
4.50 CEX/DEX
4.53 CEX/DEX
4.55 CEX/DEX
4.60 CEX/DEX
4.65 CEX/DEX
4.66 CEX
4.70 CEX/DEX
4.75 CEX/DEX
4.76 CEX/DEX
4.78 CEX/DEX
4.80 CEX/DEX
4.81 CEX/DEX
4.82 CEX/DEX
4.83 CEX
4.84 CEX/DEX
4.85 CEX
4.86 CEX
4.87 CEX
4.88 CEX
4.89 CEX
4.90 CEX
How to install CCAPI?
Just download and run this pkg on your console.
It will tell you to reboot, and it's done. You only need to do this once.
How to uninstall CCAPI?
Just run again the pkg.
You can use the pkg to uninstall CCAPI 2.80/2.70/2.60/2.50/2.00/1.00.
Console Manager
It's a tool to use some of CCAPI functions and to add console to the saved console list, this list is accessible from all software that use CCAPI.
Buy Application
You need to be connected for buying this application.